Charitable Giving Opportunities:
With every hourly or package purchase, you may choose one charity from this list, to make a donation. I will do the work, and you just have to decide and inform me where you would like your donation to go, from the current list. I have researched each one on CharityNavigator.org, to see more information about each organization and its website. Feel good about your donation, after you feel better from your session.
10,000 Degrees: Attending college for high school students opens many new choices and opportunities for life. This is an organization that helps that dream happen, for students who need assistance with funding. Education brings success and awareness for each person, communities, and potentially worldwide initiatives.
Kentucky Humane Society: Potential pets are cared for, and adopted to families, from this organization. Outreach for adopted pets is done through training classes and pet daycare/boarding, in addition to housing animals waiting for adoption. The SNIP Clinic also does spay/neuter services for the public as well. I have been volunteering at the SNIP Clinic during recovery, as the animals come from surgery to wake up. My son and I also volunteer together walking dogs and helping the stay at the shelter be more enjoyable for cats and dogs.
Charity: Water: This organization does projects on the ground in developing countries, to bring clean water to those communities. Because women and children are the fetchers of water, this benefits their access to education and family time directly, in addition to the health of all involved in the communities. 100% of proceeds go to those projects on the ground.
Guiding Eyes for the Blind: From 1976 until her death in 1982, my mother benefited from this free training service, as a person who was legally blind. Her service dog, Gusta, was able to remain in our home, instead of being reassigned to a new owner, since she had been with us for so long. Our whole family benefited from her mobility training with Gusta. Here is a picture of her official card, with her service dog, issued upon completion of the program. Yes, we were even able to go to the zoo as a family, with that card (and at that time, she NEEDED the card to enter).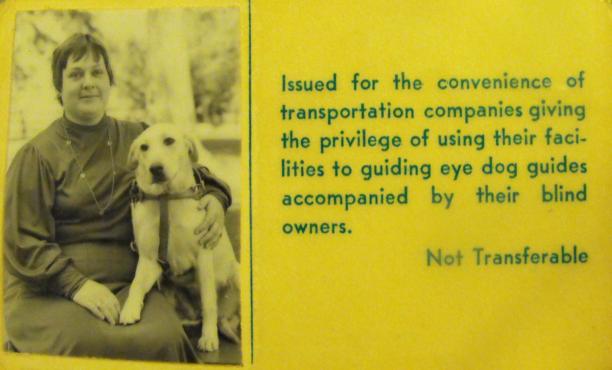 Every hourly and package purchase is an opportunity for donation.
$5 will be donated from every regular hourly rate purchase, to a charity listed above.
$5 will be donated from every discounted package, to a charity listed above.